Parents' Book Club (11/27/21)
2021-10-29 15:57:21
Saturday, November 27 at 2:00 PM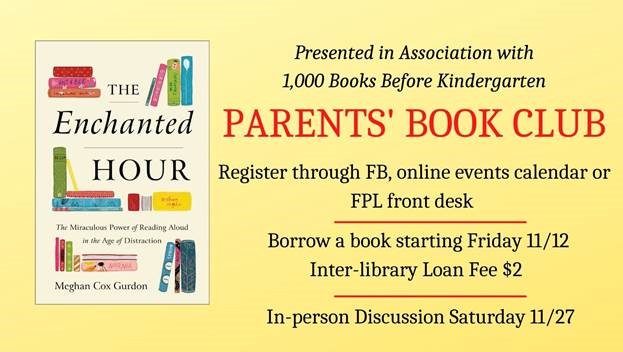 This November, Fairfield Public Library Youth Services in association with the 1,000 Books Before Kindergarten Program presents Parents' Book Club.
Studies have shown that families who start reading aloud to their children at birth help to strengthen language skills and build vocabulary – two important tools for beginning to learn to read when they enter kindergarten. Additionally, research has shown that early literacy has a dazzling effect on children's general cognitive and socio-emotional development. Join us in reading "The Enchanted Hour: The Miraculous Power of Reading Aloud in the Age of Distraction" and meet to discuss parenting in contemporary American society.
"Grounded in the latest neuroscience and behavioral research, and drawing widely from literature, The Enchanted Hour explains the dazzling cognitive and social-emotional benefits that await children, whatever their class, nationality or family background. But it's not just about bedtime stories for little kids: Reading aloud consoles, uplifts and invigorates at every age, deepening the intellectual lives and emotional well-being of teenagers and adults, too." –from the publisher.

If you would like to join us, please register using the form below.

https://www.fairfield.lib.ia.us/youth-services/parents-book-club

An interlibrary loan fee of $2 for postage should be paid when you pick up your book. Books will be ready for pick-up starting November 12th. The in-person discussion will take place at FPL with light refreshments on Saturday, November 27th at 2:00pm.

For all Youth Services questions, contact Alecs Mickunas, MLS, at 641-472-6551 or alecsm@fairfield.lib.ia.us.